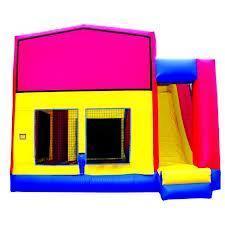 Theme ComboSlide Package
Theme Casle Combo Slide Package
Our Castle Combo Slide is a one-of-a-kind inflatable slide that combines the thrill of a slide with the enchantment of a castle. One of the standout features of our Castle Combo Slide is its impressive size, standing tall and proud, this slide will create a majestic presence at your event. Its vibrant colors and detailed castle design.
Safety is our top priority, which is why our Castle Combo Slide is constructed with high-quality materials that meet the highest safety standards. The slide is equipped with safety features such as sturdy handrails, non-slip steps, and a soft landing area, ensuring that everyone can enjoy the experience worry-free.
Versatility is another key feature of our Castle Combo Slide. It offers more than just sliding fun – it also includes a spacious bounce area inside the castle, allowing kids to jump, bounce, and play to their heart's content. It also has a basketball goal inside.
Whether you're hosting a birthday party, school carnival, corporate event, or any other special occasion, our Castle Combo Slide is guaranteed to be a crowd-pleaser. It will create unforgettable memories and keep everyone entertained for hours on end.Don't miss out on the opportunity to add the wow factor to your next event. Book our Castle Combo Slide and make your event an unforgettable experience for all!
shoptagr:installed